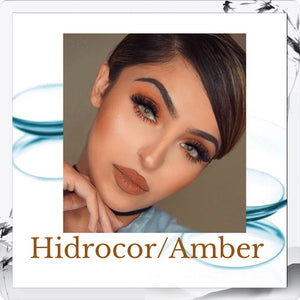 FreshGo Amber Hidrocor lenses are gorgeous olive green color contacts that slowly fades toward a yellow in the center offering a bit of contrast without seeming fake. Made without a limbal ring, this color will accent lighter eye colors beautifully. When you want a natural look that subtly spices up your eye color, Amber is just the shade for you.
Lens limbal ring for a more natural look

Base Curve: 8.6, Diameter: 14.2mm

Water Content: 38%, Material: Polymacon 62%

this listing is for 1 pair of lenses

For wear during the daytime for up to one year

1 free case included
Disclaimer:
*The final look and color will vary based on your original eye color, complexion, make-up, lighting and other factors.
Please keep in mind that all major brands agree on the fact that is hard to determine what colors will work on each individual eyes as lenses differ quite dramatically on most eyes based on their hue. Even eyes of similar colors might experience completely different effect and resulting color due to individual's eye color undertones.
There are many videos on youtube and IG showing how various colors might look and how they transform various eye colors. If you are buying color that you haven't tried yet then we suggest reviewing these videos, so that you are fully aware of what to expect.
**Please make sure that your eye's natural curve matches the base curve specified in this listing. This measurement is important for comfort.
Base curve of your contact lenses should match your eye's natural curve as closely as possible to ensure a better fit when you are wearing your contact lenses and to prevent scratching and irritation.
***Everyone's eyes are unique, so having a contact lens prescription ensures you have lenses which are comfortable and fit well.
The key details you'll find on your contact lens prescription are:
Details of the base curve which measures the curve of the lens to your eye (in mm)

The diameter (width) of your lens (in mm)

The strength of your prescription, listed as 'power/sphere' (in diopters)
Astigmatic wearers will need extra measurements of cylinder and axis. Presbyopic wearers will need the extra measurements of addition and dominant. This product can't accommodate people with neither of conditions mentioned above.
The FreshGo Hidrocor Amber Contact Lenses is evocative, to say the least, but that's why you're drawn to it in the first place.

Inventory Last Updated: Nov 29, 2023